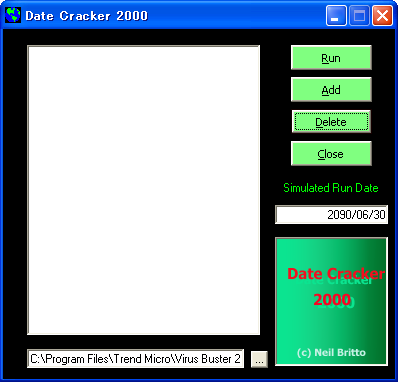 Date Crack giúp sử dụng chương trình được lâu hơn khi thời gian dùng thử đã hêt.____________________________
Have you ever wished you could extend the time your able to use a free trial ?
Well you can, with freeware that will remove date protection from programs which expire after a specific date, enabling you to use most shareware or trial version software indefinitely.
Date Cracker
is a program the software industry doesn't want you to know about.
Using it couldn't be easier.
* Start by opening Date Cracker
* Click Add
* Enter the description for your program
* Click the […] button at the bottom of the screen
* Search for the executable file of the trial program
* Set the Simulated Run Date past the trial expiration date
* Click Run
That's it, your now on your way to using your favorite trials hassle free.
A Few Tips
:
The key is to run the software via Date Cracker when you run a trial for the first time.
Dates should be entered in full e.g. 2090/06/30
Conclusion
:
It's possible a license agreement may exist with a particular software manufacturer, so this may not work on some programs.
Developers are aware of such programs and could devise better algorithms so that their software would be better protected, however, there will always be a newer version of Date Cracker 2000.
Date Cracker 2000 is the best solution to completing your projects without depleting your budget.
License
: Freeware
OS: Win95, Win98, WinME, Windows2000, WinNT4.x, WinXP
Download :
http://www.mostlysav...ties/dc2000.zip
oR :
http://www.4shared.c...69/dc20000.html
or:
http://www.mediafire.com/?82j1idxot9u